RISIS SPONSORSHIP AT Eu-SPRI Conference 2023
June 13, 2023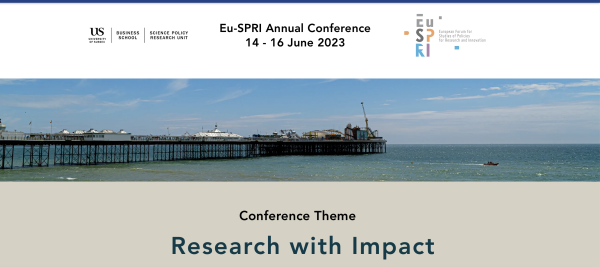 Even in this edition, RISIS project is the sponsor of the  Eu-SPRI Conference 2023. One of the prominent features of RISIS' sponsorship is the Special Track 18 titled Governing Research Careers: addressing persistent and emerging challenges in the context of the 'impact agenda'. This track will provide a platform for in-depth discussions and exploration of the various challenges faced by researchers in today's dynamic research landscape, with a particular focus on the impact agenda.
Additionally, RISIS is delighted to sponsor the Drinks Reception and Nibbles at the OhSo Bar and Restaurant, taking place on June 14, 2023, with arrival time from 19:15. This informal gathering offers conference attendees the opportunity to connect with their colleagues in a relaxed and picturesque seaside location. The event will provide a delightful selection of food and drinks, all while offering a stunning view of the iconic Brighton Pier.
As a committed supporter of the Eu-SPRI community, RISIS is thrilled to contribute to this exceptional event, which serves as a platform for collaboration and knowledge exchange among academics and researchers.
Recognizing the power of collaboration and knowledge exchange in driving progress, RISIS aims to empower conference attendees by providing them with access to cutting-edge resources, networking opportunities, and expert insights. Through its sponsorship, RISIS demonstrates its unwavering commitment to fostering innovation, advancing research, and promoting interdisciplinary collaboration.
RISIS remains committed to supporting the Eu-SPRI community and looks forward to a successful and fruitful conference, where researchers and academics can come together to share their knowledge, exchange ideas, and collectively drive progress in their respective fields.
Eu-SPRI Conference 2023 website
RISIS SPONSORSHIP AT Eu-SPRI 2023