RISIS-KNOWMAK, an overview of the Policy meeting
January 9, 2020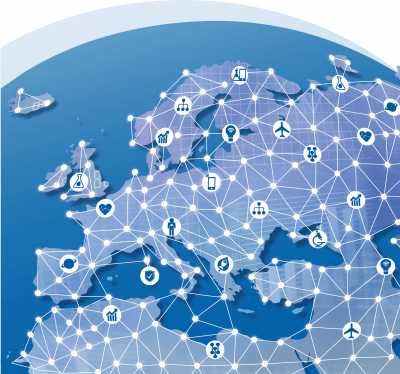 On 19th December 2019, the Club of associated research organisations (Clora) of Brussels hosted the second policymakers' Session of RISIS project. During the session, Benedetto Lepori, from Università della Svizzera Italiana and Thomas Scherngell, from Austrian Institute of Technology, presented The RISIS-KNOWMAK tool as an interface to RISIS integrated data.
Part 1 – RISIS-KNOWMAK: The tool
KNOWMAK is an on-line tool to display and download selected indicators on knowledge production in the European Research Areas. The tool allows to exploit the core datasets in RISIS on publications, patents, projects, social innovation projects, and to integrate them through a common ontology, space(countries/regions), and actors (public and private). The KNOWMAK tool provides indicators – not data – deal mostly with volume of activities and outputs, linkages between topics, actors, geographical spaces, and combinations of dimensions (composite indicators) to answer to relevant questions like:
Which are top European research actors on a certain research topic?
In which topics is a given European region specialized?
Who could use it?
Policy analysts at European, national and regional level, for an overview of knowledge production, to fine grained views by space and topics, and to ready made maps and indicators
Researchers, to fine grained ready made datasets with multiple indicators
Research managers, to identify partner regions and actors, particularly at the topic subtopic level
Part 2 – Demonstration of the RISIS-KNOWMAK tool
The tool allows the user for three main analytical possibilities:
Exploration: Allows the user to explore indicators in the tool in form of tables and with different visualisation forms (maps, bar charts and line diagrams)
Retrieval: Allows the user to download selected indicators in a suitable format for further statistical analysis or combination with other data
Explanation: Supports the user in the navigation through the tool with online help features, user handbook, as well as some exemplary analysis (data stories)
KNOWMAK tools covers 36 European countries, 553 European regions on topics as Key Enabling Technologies and Societal Grand Challenges.
How to start?
1 Selection of an indicator, and specify the exploration mode explore by in terms of geography and/or topics and in time
2 Filtering the pre selection from countries and regions and classes. By default, all countries and topics are selected.
The analytical possibilities available are Map View, Bar Chart and Table View.
Part 3 – The spatial distribution of knowledge production in Europe. A latent class analysis
Based on the different indicators available in KNOWMAK, characteristic groups of regions in terms of their knowledge production activities can be derived. The analysis has been performed by considering indicators of publication output, patents, EU-FP participation and education at the higher education level, as well as regional statistics on area and population from EUROSTAT. The NUTS-adapted classification introduced in KNOWMAK was adopted. Using different classification allowed identifying six classes of regions based on the level and orientation of knowledge production:
Class 1 are urban and rural regions, comparatively small, with low intensity for science and education, but some patent activity as associated with a strong industrial basis (e.g. Prato, rural Veneto, Lorraine region).
Class 2 are high-density urban areas, mostly Eastern and Southern European cities such as Istanbul and Napoli, with strong educational activities, some science and low level of technology production.
Class 3 high intensity regions in all dimensions of knowledge production, such as Zurich, Cambridge, Oslo, Stockholm.
Class 4 are large cities with large science basis, including London, Paris, Vienna and Rome.
Class 5 includes regions with some educational activities, but low science and technology, such as Castilla-La-Mancha in Spain and Calabria
Finally, class 6 includes middle-size cities with both a science basis and education activities, such as Bremen, Bordeaux or Brno.
Part 4 – Future development of RISIS-KNOWMAK and open discussion
From 01.01.2020 the KNOWMAK tool will be maintained and further extended within RISIS, ss a service providing indicators based on the core RISIS datasets, and to shows the core function of RISIS to integrate datasets, tools and services
In the future, RISIS will offer different types of access to data and services
Fully open public data (for research): Ready made indicators through the KNOWMAK tool
Data on research organizations through OrgReg , FirmReg and the RISIS mirror of ETER
Presentation available at: https://zenodo.org/record/3591854#.XhcCykdKg2w