RISIS online Training on Machine Learning using Stata with applications to RISIS datasets
Nov 23, 2022 @ 10:00 am

-

4:00 pm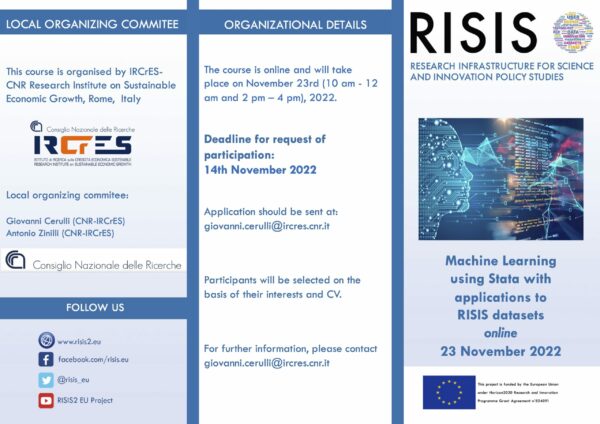 The Online Training on Machine Learning using Stata with applications to RISIS datasets  is organized by IRCrES, Research Institute on Sustainable Economic Growth of the National Research Council of Italy and will take place on online platform on 23 November 2022.
Deadline for request of participation:
14th of November 2022.
Course main objectives:
In this one-day course, after an introductory lecture on Machine Learning for the social sciences, two related Stata modules, r_ml_stata_cv and c_ml_stata_cv will be illustrated for fitting popular Machine Learning (ML) methods both in a regression and a classification setting.
Using the recent Stata/Python integration platform (SFI) introduced in Stata 16, these commands provide hyper-parameters' optimal tuning via K-fold cross-validation using grid search. More specifically, they make use of the Python Scikit-learn API to carry out both cross-validation and outcome/label prediction. Applications will be carried out on RISIS datasets.
Target audience: 
This course  targets researchers aiming to master tools and methodologies to dig into Machine Learn applications. It will involve up to 15 participants. It is addressed to:
-Senior scientists, early career researchers and PhD students
-Policymakers at the local, regional, national and international level (e.g., European Commission)
Course prerequisites:
Participants should have some basic notions of basic statistics (mainly regression models), a working knowledge of Stata, and some practice with STI analysis.
It is not necessary for participants to have knowledge of Python.
Download  CALL FOR PARTICIPATION
Download  LEAFLET OF THE COURSE
Contact person:
giovanni.cerulli@ircres.cnr.it