RISIS Online Training on Data Quality for Research and Higher Education Studies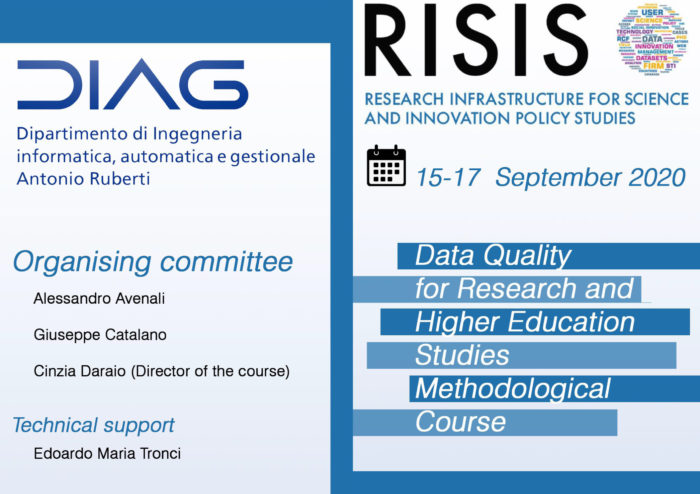 The Online Methodological course on Data Quality for Research and Higher Education Studies is organized by DIAG Department of Sapienza University and will take place on Meet Platform from 15th to 17th of September 2020.
Deadline for request of participation: 31 of July 2020
Course main objectives and topics:
Introduce the participants to the importance of Quality issues for Data on research and higher education studies
Provide the participants with the basic knowledge for understanding and use data quality techniques in their context
Propose a tool for implementing a minimum set of Data Quality techniques in their context of application
Offer tutorials on the main software that will be used during the course
Encourage the participants to explore the proposed tool with their own datasets
Offer the possibility to interact with the Course's lecturers to have advice on their own specific needs
Expose participants to seminars on advanced topics related to data quality issues and methodological approaches
Target audience: RISIS Database managers, researchers (including PhD students and or post-doc) interested in data quality methods for research, education and innovation policy.
Course prerequisites: Priority will be given to RISIS members, and to those in charge of the RISIS facilities. The remaining places will be allocated to researchers according to their CV and interest for their research.