RISIS Methodological course on PANEL DATA METHODS AND APPLICATIONS
Mar 5 @ 10:00 am

-

Mar 6 @ 4:00 pm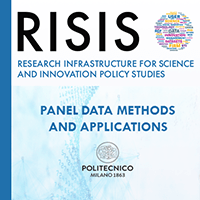 The Methodological course on PANEL DATA METHODS AND APPLICATIONS is organized by Politecnico di Milano and will take place from 5th to 6th of March 2020.
Deadline for request participation: February 15th, 2020
The course objective is to introduce the main features of panel data econometric models and present use cases and examples based on the VICO dataset.
In RISIS, a number of dataset are characterized by a panel data structure (e.g., the firm level datasets, CWTS on publications, ETER on universities…), therefore a better understanding on the main issues related to the analysis of this kind of data could be of interest of internal RISIS users, as well as policy makers and external researchers that might be interested in using the RISIS infrastructure.
Topics covered in the course include specification, estimation, and inference in the context of models that take into account unobserved heterogeneity and individual effects (e.g. fixed-effects vs. random-effects models).
Target audience include PhD students, early career researchers, policy analysts. We expect 15 participants.
Course prerequisites: participant should be already familiar with applications of econometric models and they should have at least a basic knowledge about statistical tools (STATA).